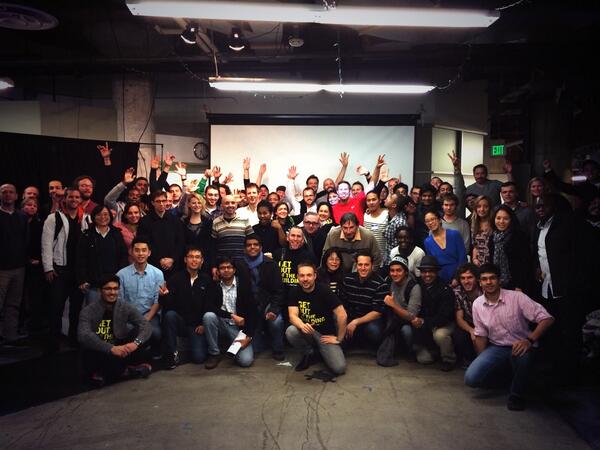 They said it many times: "This experience changed my life."
As inspiring as the stories were, I sat in the crowd at the Ultimate Lean Startup Machine wondering whether a bulleted point in a speaker email somewhere had requested they use that line. I also wondered whether the only lives truly changed were those of the winners. Man, I should have gotten in that line to pitch.
I hoped that the answers to both questions would be obvious "no's" by the end — and it was. My life did change: not in the "after coming in first place, we all quit our day jobs to work on thie idea and made a ton of money without ever needing funding by a VC and now I'm hear to tell you about it" way. But change, nonetheless.
The Lean Startup Machine did many things: It forced me out of my comfort zone. It made me a better product manager. It introduced me to a really awesome, diverse group of actual and aspiring entrepreneurs. It exposed me to new tools for customer development and testing, and provided the opportunity to actually use them.
Most importantly, the experience motivated me to start doing the hard work necessary to find out whether I was onto anything with my startup idea.
Before the Lean Startup Machine in December, I'd been paralyzed by the fear that my idea might not be any good. I'd read the Lean Startup books, implemented the process  on products at work, but couldn't seem to muster enough motivation or confidence to put my own ideas and assumptions to the test. I couldn't muster enough confidence to share my idea that Friday night, as so many others had. If I gave my pitch and not one person raised a hand to vote for it… Well, that would have sucked.
What I didn't quite realize until attending the LSM was that proving my riskiest assumptions wrong would mark the beginning, not the end. Reading the books should have taught me that (and did, in theory) but reading is nothing compared to the education that comes with spending  Friday through Sunday nights doing.
And it wasn't just my own team's experience that made an impact, of course, it was observing all the others.
One team with what seemed like a brilliant idea on Friday night fell apart on Saturday, defeated after proving the problem being solved wasn't much of a problem at all. Seeing that happen was disappointing. Others struggled through several iterations and pivots, ending up with a totally different product idea and customer segment worth exploring. Seeing that happen was energizing.
We didn't win. We weren't able to collect a dime that weekend or learn fast enough or pivot toward something awesome. We wouldn't become those people standing at the front of the room at another LSM talking about how after several pivots, we struck gold and left our jobs. In a way, we'd failed at failing. It was still an empowering, life-changing experience.
Since returning from San Francisco, I've pushed full speed ahead in my discovery efforts. After getting out of the office to interview people face to face, I learned my original customer would never be an early adopter. I pivoted toward a different customer segment, and started getting some really good insight. I learned that their biggest pains aren't exactly what I thought — and learned about challenges that I hadn't considered.
I've tried several of the tools we used during the weekend, and continue learning from the mentors and organizers. One of my teammates and I go back and forth regularly, bouncing ideas off each other, talking about what's worked and hasn't. Knowing that he will ask about my progress motivates me to keep moving. His dedication to learning and getting things done inspires me.
So here's the thing: after the Lean Startup Machine, I stopped just thinking and worrying about giving the startup thing a shot and started doing something about it. I want so many others to have a similar experience, to embrace failure and learning, and realize that you can validate your ideas without writing a line of code or talking to a VC.
And so I've volunteered to organize the Lean Startup Machine Philly this spring. (That is, if we can unlock it.) I'm also working with LSM and GirlDevelopIt on a Women Only Lean Startup session before the main event. My hope is to give other women the knowledge, tools and experience needed to stop sitting on ideas and start the learning process.
The amazing ladies of GirlDevelopIt will be in touch soon with more info. In the meantime, let's UNLOCK PHILLY so we can bring LSM back to Philly this spring!
Oh, and now that I'm an LSM organizer, I can tell you that my assumption was indeed wrong: There are no canned speaker emails with a bulleted point about using the phrase "life changing."